Build successful workplaces with expert insights and a collaborative spirit towards change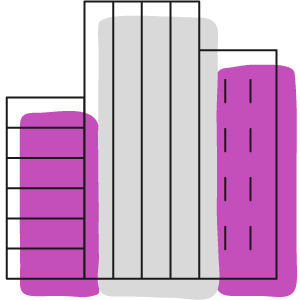 Our modern workplaces can be diverse but they are all characterised by their fast – paced rhythm and ever-changing needs. Industrial psychologists invest in a range of principals and holistic methods to resolve all issues faced in the work environment, from everyday stress to burnout. Mindshift creates advanced organizational settings with the capacity to facilitate sustainable working styles and eventually increase workplace productivity.
Process for IO Evaluation and Implementation
Below you can see a general scheme used for most companies. We treat each case separately so get in touch with us to discuss the personalized, custom plan that works for your company.
Industrial Psychology step by step guide
During this time, we will have a preliminary meeting where we discuss the goals you have for your company. This meeting will allow me to gain as much information as possible to have enough background knowledge about your company. 
Step 2/6
Collection of data for personal analysis
Moving forward, I'll collect the necessary data to formulate the best possible plan. During this process, I'll work alongside your team of experts to gather data and other essential information.
Step 3/6
Presentation of plan and discussion of implementation
This part includes a presentation of the plan with a detailed timeframe. Here, you will see a step-by-step implementation of the process and how it will fit in your work plan and needs. A timeline will be discussed as well.
I "insert" myself in your company and start working with your staff and respective departments. You will be able to familiarize yourself with the process of work and how we will continue to work together as a team. Monthly goals will be set to ensure timely satisfaction.
Step 5/6
Short-term evaluation
Depending on the agreed upon timetable, a 3 month evaluation takes place to adjust possible changes. Several meetings will take place to make sure the process is on track and discuss any possible changes that might be deemed necessary.
Step 6/6
Long-term evaluation
After the agreed upon period of time, a long-term evaluation of the plan is essential to review the success of the intervention plan. With this in mind, we will schedule a meeting to ensure all goals have been met and discuss potential needs and changes for the foreseeable future.
I have a small company, facing a few issues. How will I know mindshift is the right fit for me?
When deciding to contact us in regards to issues you might be facing, we will ask a set of questions to gather more information. This information will help us determine the best approach for your company. We will present the course of action to you and jointly decide to move forward.
of company employees said they felt burned out more often than not.
What are the benefits of practicing and implementing the knowledge of industrial psychology?
Each course of action is designed to meet your specific needs. By implementing the plan discussed, your company will meet the standards you have set for it. The knowledge gained throughout our collaboration can be used long-term for any issue your company might face.
Are you interested in the implementation of industrial psychology in your workplace?
Don't hesitate to reach out to us anytime